Welcome, Texas!
We've got plans for you
At Moda Health, we're more than just a health insurance company. If you live in the greater Austin area, we've got individual and family medical plans that are supported by local health systems that you know and trust. Since 1955, we've been finding better ways for our members to access high-quality health plans to achieve better health and wellness. Our plans come with expert guidance, caring customer service and helpful wellness services, tools and programs that deliver better value and a better experience — all of which you can expect from us.
Browse plans now
Moda Select Network
You have a lot to think about when choosing the right medical benefits for you and your family. Our individual and family medical plans give you access to providers in the Moda Select Network. This network includes a group of licensed medical professionals, clinics, pharmacies, labs and hospitals.
These providers offer quality care and services to our individual members who reside in the following counties: Hays, Travis and Williamson.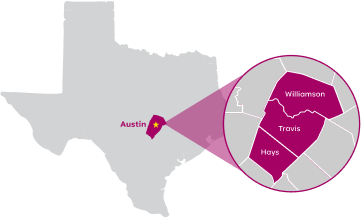 Moda Select Network
Featured health systems in the Moda Select Network
You'll receive great care and value when you choose healthcare providers and services from the Moda Select Network. Some of the major partner health systems you already know are currently participating in the Moda Select Network, including:
Austin Diagnostic Clinic
Austin Regional Clinic
Capital Area Primary Care Providers
Capital Area Providers
Capital Area Surgeons
St. David's HealthCare
St. David's Ortho Neuro and Rehab
St. David's Specialized Women's Services

In-network providers
With the Moda Select Network, we've carefully selected a community of primary care providers (PCPs) and specialists to ensure you have better value and better care on your journey to better health.
See if your provider is in the Moda Select Network >

Pharmacy benefits
The Navitus Network includes access to over 95% of pharmacies in Texas, plus more than 65,000 pharmacies nationwide. This means you can fill prescriptions almost anywhere, including local and national drug store chains.
Locate a pharmacy in the Navitus Network >
Travel with peace of mind
Our medical plans ensure you're covered when you travel anywhere in the United States and U.S. territories. While traveling outside of the service area, members can receive in-network emergency or urgent care through the First Health Network. The travel network is not available if you are temporarily residing outside the primary service area or traveling for medical care.
Shop Moda Select Network plans now
Wondering about enrollment periods?

Enrollment type

Enrollment dates

Info

Pre-shop

Oct. 1, 2023 to Oct. 31, 2023

Browse plan details in advance of open enrollment

Open Enrollment

Nov. 1, 2023 to Jan. 15, 2024

To change your medical plan outside of these dates, you'll have to qualify for Special Enrollment.

Special Enrollment

Anytime depending on qualifying event(s)

Certain life events might qualify you for Special Enrollment. This means you can enroll in a health plan outside of the annual Open Enrollment period. Here are a few of the qualifying events that could make you or those you cover eligible:
Learn more about special enrollment >
Additional Resources
Go to Healthcare.gov to see if you qualify for lower cost premiums.
Impacted by Medicare eligibility changes?
Medicaid redetermination is when the state checks to see if you still qualify for Medicaid. Paused during the COVID-19 pandemic, redetermination now takes place annually. If you no longer qualify for Medicaid because of a redetermination, you may find affordable coverage through a subsidized ACA Marketplace plan. Visit our Medicaid redetermination page to learn more and find your state Medicaid office.